Wool Applique

Spring and Summer

Berry Picking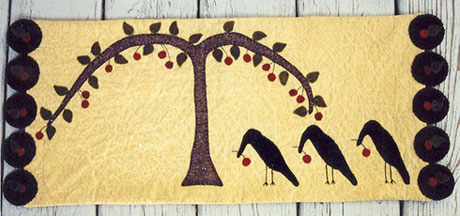 Berry Picking
$8.00
Pattern No. 116
Berry Picking
Finished Size: 25" x 11"
Collection: "Crow's Nest Collection"
Description: This is our most popular penny rug so far. It is different from most others, because it is made with quilted muslin. The muslin is heavily tea/coffee stained to give it a primitive, aged look. The wool is then appliquéd on the rug. The black crows and warm red berries really bring this rug to life! A must have!
Availability




This product is: