Wool Applique

Christmas and Winter

Keeping Up With Santa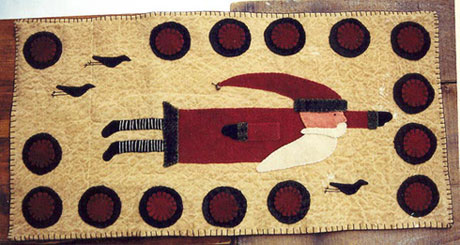 Keeping Up With Santa
$8.00
Finished Size: 22" x 11-1/2"
Collection: "Holiday Collection"
Description: This quilted muslin penny rug has been heavily tea/coffee stained to give it a primitive, aged look. It is completely lined with quilted muslin and has simple blanket stitching around the edges. Santa is coming, and the fastest way to get here is to fly! His friends, three little primitive crows, are trying hard to keep up. Santa and all pennies are made with 100% hand-dyed wool with rich, deep colors. The tiny rusty bell at the tip of Santa's hat is included with your pattern. My sister, Kathie, loved this one so much that she took it home with her! Looks like I need to make another one for myself.
Availability




This product is: