Wool Applique

Spring and Summer

Heart in Hand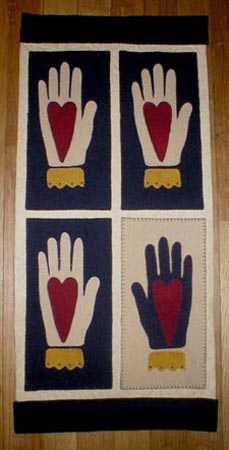 Heart in Hand
$8.00
Pattern No. 167
The "Mary and Me" Collection
Finished Size: 26-1/2" x 12-1/2"
The timeless design of "Heart In Hand" is brought to life in this unique penny rug. Using a tea-stained Sandcastle (quilted muslin) background, the wool blocks are added and the woolen hands are appliqued with hearts and cuffs. Based on a design by Donna Hrkman of Blue Ribbon Stencils and modified by Lake View Primitives.
Availability




This product is: