Wool Applique

Christmas and Winter

Christmas Crow Out On A Limb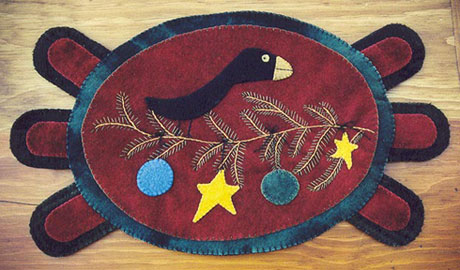 Christmas Crow Out On A Limb
$8.00
Finished Size: 20" x 11"
Collection: "Holiday Collection"
Description: When I asked my 8-year-old son, Joe, to draw a crow for me, this is what I got – a skinny crow with a big, puffin-like beak and really skinny legs. He was so unusual that I decided to bring him to life in a wool penny rug. The tree branch is easily made with a stem stitch and lots of straight stitches for the needles. The deep reds and greens are hand-dyed wool with beautiful mottling. This is a fun piece to make.
Availability




This product is: