Wool Applique

Spring and Summer

Cats-O-Nine-Tails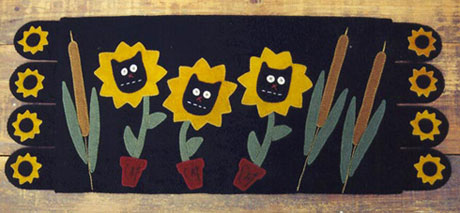 Cats-O-Nine-Tails
$8.00
Pattern No. 117
Finished Size: 33" x 13"
Collection: "Crazy Cat Collection"
Your Cat-o-Nine-Tails have never seen anything like this! Real cats in the flower garden – and they're blooming inside the sunflowers. What a crazy garden, indeed. The barn red pots are stitched with "CaT" in primitive letters and the hand-dyed golden wool used for the sunflowers is warm and inviting. Add this "indoor garden" to your home for any season of the year.
Availability




This product is: