1847 Baltimore Bride's Quilt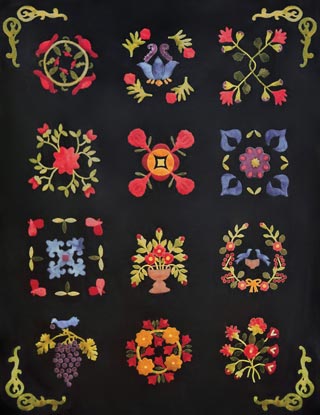 Finished Size: 83" x 65"
Pattern No. 713 (finishing instructions)
Pattern Plus includes pattern and hand-dyed wool for four corners of applique
The blocks in this quilt are based upon an 1847 Baltimore Bride's Quilt made by Mary Ann West. The original cotton quilt had 25 blocks and was made in turkey reds and greens of that period and was in the collection of Rita Wolochuk. We were inspired by this lovely quilt and have selected 12 of the blocks and converted them to wool applique. The quilt is stunning with the rich colors of hand-dyed wool against black flannel.
Please click on a numbered block for more details.