1930's Wool Bed Rug
BLOCK-OF-THE-MONTH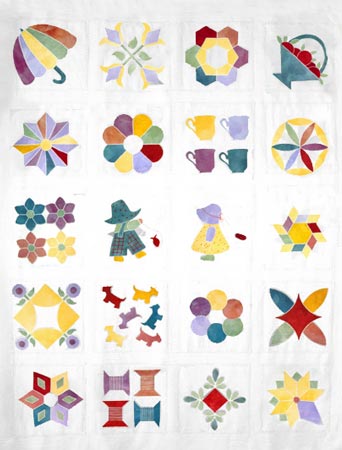 The project that you have been waiting for has arrived!! Lake View Primitives' 1930's Wool Bed Rug is ready to ship, so sign up now for your Block-of-the-Month patterns or wool kits. Patterns and kits are available individually also without the need for sign-up.

We designed this 20-block Wool Bed Rug using "Woolrich Natural" 100% wool as the background. All of the colors used for applique are hand dyed by Lake View Primitives and feature the popular colors of the 1930's. Some of the designs are classic 1930's designs -- like the Dresden Plate, Sunbonnet Sue & Sam -- while others we designed ourselves with 1930's themes in mind.

Patterns are $8.00 each. Wool Kits are $38.00 each with FREE SHIPPING ON ALL KITS EVERY MONTH!!! Each wool kit includes the Woolrich Natural wool background, all hand-dyed colors for applique, floss, and the pattern . . . everything you need to complete one block! You can select just one individual kit, or you can sign up for the entire series.

Signing up is easy. You can call, email, or simply click on the "Membership" link for patterns or kits through our secure shopping cart. Just provide your credit card number and we will take care of getting your shipment out each month.

Finishing Kits are available when you have completed your 20 individual blocks at $135.00.
Click on the individual blocks below for more information
and close-up views.


Sign up below for The 1930s Wool