Dear Jane
Welcome to Woolly Dear Jane. For the first time ever, the beloved Dear Jane quilt is available in 100% hand-dyed wool. We are so excited to be working with Brenda Papadakis, author of the Dear Jane(R) book, to bring to you this breath-taking new creation. Now you can make your own Woolly Dear Jane . . . and it is so much easier to make in wool with raw edge applique and the simple blanket stitch. No piecing or seam allowances to worry about! Are you ready?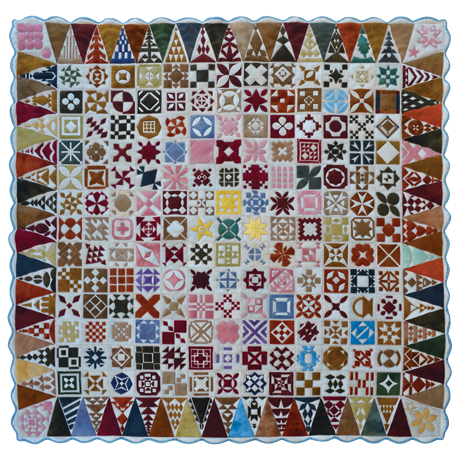 Kits for Row A - Row M each contain a panel of hand-dyed Nougat wool to make (13) 5" x 5" background blocks. Also included in these kits you will find 13 different colors of hand-dyed wool for all applique, 10-13 full skeins of floss for stitching, detailed instructions and a color cover showing the blocks made in wool.
The kit for the Inside Only Border is for those of you who want to make the 169 inside blocks but do NOT want to continue your journey into the triangular borders. This kit contains a 10"+ x 75"+ panel of hand-dyed wool to match the inside blocks, along with floss for attaching your borders, detailed instructions and a color cover showing the quilt as it appears with the simple border.
If you are continuing with the triangular borders, you will not need this kit.
Kits for the Top, Bottom, Left and Right Borders - as well as the Four Corners of the quilt - contain all the hand-dyed wool panels you will need to create the borders and corners. Each border kit contains 27 different 8" x 5" hand-dyed colors for the solid and design triangles, along with 11-13 full skeins of floss, detailed instructions and color covers showing the triangles made in wool. The kit for the Four Corners also includes all the hand-dyed background wool, hand-dyed applique wool, floss, instructions and color photos.
The templates for each block and triangle are found in the Dear Jane(R) book by Brenda Manges Papadakis, available separately. You will need this book to make the quilt.
EVERY INCH OF THIS QUILT IS MADE WITH 100% HAND-DYED WOOL - YOU WILL BE MAKING A TRUE MASTERPIECE!!!!!
All kits are available on our website. You may order just one kit to give it a try - or you may order as many as you like. There are no minimums and there is no obligation to purchase them all. Free Priority Mail shipping every day on Dear Jane kits in the Continental United States, and reduced shipping for International orders.
Although we have the kits available, there is no auto-ship option through Lake View Primitives. If you wish to sign up for auto ship, please visit the Keepsake Quilting website or quilt shops that offer this program.
Thank you for visiting, and we hope you join our Woolly Dear Jane family!!! If you would like to become part of our exclusive Woolly Dear Jane facebook group, please
click here
. Have a wonderful day!
Jackie